PRESENTS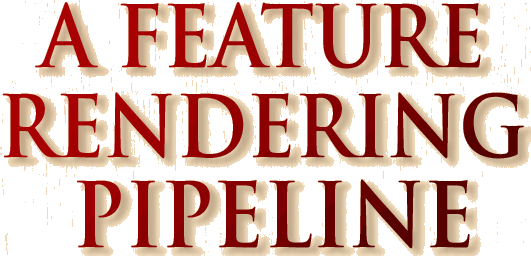 A PRESENTATION IN SUPPORT OF AN
EFFICIENT LONG FORMAT LIGHTING,
RENDERING AND COMPOSITING PIPELINE
"I had the great fortune of meeting ReelMatters's Director, when he came to Animation Lab for 2 weeks to consult us on how to build and implement the pipeline for our CG feature. We benefited enormously from his expertise, which he readily shared with us through a number of seminars and through individual sessions with the CG Supervisor, the individual Heads of Department as well as the Production team, in order to fully understand our specific production needs and to advise us accordingly. I was extremely impressed by his very hands- on approach and his candid feedback and it was a great pleasure to have such a knowlegeable and affable person in our midst. I can heartily recommend him to any production seeking input or guidance on how to contruct their pipeline."
Christine Strobel,
Production Manager, Animation Lab

* * *

"The ReelMatters's Director and I were both Department Supervisors on 'The Wild' at C.O.R.E. Feature Animation. I worked as Environmental Modeling and Texturing Supervisor before he stepped in as Lighting Supervisor so I can attest to the polar shift in workflow and throughput when he took over. He and I, together with our Leads, established channels of communication, feedback and cross discipline support that made an impossible task possible. I found that his advice was insightful, his solutions were clever and his mind open to suggestions that made both of our departments succeed. Great sense of humor and very laid back even under pressure."
Bo Mosley
, Mod/Tex Supervisor for Environments, C.O.R.E. Feature Animation

* * *

"The ReelMatters's Director possesses technical and functional knowledge and skills needed to perform the job successfully. He translates creative and technical direction into solid work. In particular, he has a great ability to troubleshoot problems independently or as a member of a team and provide innovative solutions in timely manner. Especially, his strengths are in ability to quickly comprehend and analyze pipeline and then to streamline and enhance it. Artistically sensible with flair for design and colors. He posses great communications skills that provide team members with clear and appropriate direction. I would strongly recommend him as I believe that his talents, knowledge and personality would be excellent addition to any company that he wishes to apply to."
Belma Abdicevic
, Lighting/Compositing, DKP

* * *

"The ReelMatters's Director made a huge contribution to the lighting work on Prince Caspian during his time at MPC. Within a week of joining the company, he had learned our in-house toolset well enough to be producing final renders. He demonstrated a high level of technical and artistic skill, as well as a strong work ethic and high degree of professionalism. I strongly recommend him for any Senior TD position and hope to work with him again."
Greg Butler
, VFX Supervisor, The Moving Picture Company

* * *

"To whom this may concern. I can conceitedly say that I had a fortune to work with The ReelMatters's Director in such complex project like The Tales of Despereaux at Framestore. He was involved in various pipeline developments but most important one's was building the Lighting tool that should be easy to use to various levels of artists but is same time to be open to the most complex assignments from demanding production like Despereaux. His tool was instant hit in production, tool troubleshooting was done incredibly fast, it's was done before schedule and most important Lighters simply have no complains about his tool. He demonstrated exceptional technical skills and immense vision for developing pipeline combined with superbly communication skills on various levels and great sense for deadline. He is one of those Artists in industry who are acting like magnets for others"
Nikola Milosevic
, Lighting Supervisor, Framestore CFC